First Freight Couriers was incorporated in 1997. The two founding directors brought together their extensive years of transport experience and in-depth knowledge of the courier industry to form what you see today.
The founders realized that there was a gap in the courier market due to the lack of personalized transport services being offered to customers. The directors felt that First Freight would fit into a niche market and envisaged a company that not only offers a superior service, but one that also focuses on the individual needs of the customer. Since 1997, the company has grown from strength to strength to become a formidable player in the South African courier industry. The two founding directors are still personally involved in the day to day running and management of the company and are constantly striving to come up with new and innovative ideas to take First Freight Couriers to unpredicted heights and enable us to offer our customers a superior level of service.
All managers adopt a hands-on approach adhering to the business philosophy of paying attention to detail. The directors and management are continually searching for ways to adapt the business, pricing structures and the services offered to suit the customers individual needs. The staff at First Freight Couriers are committed to offering our clients and customers the best possible service.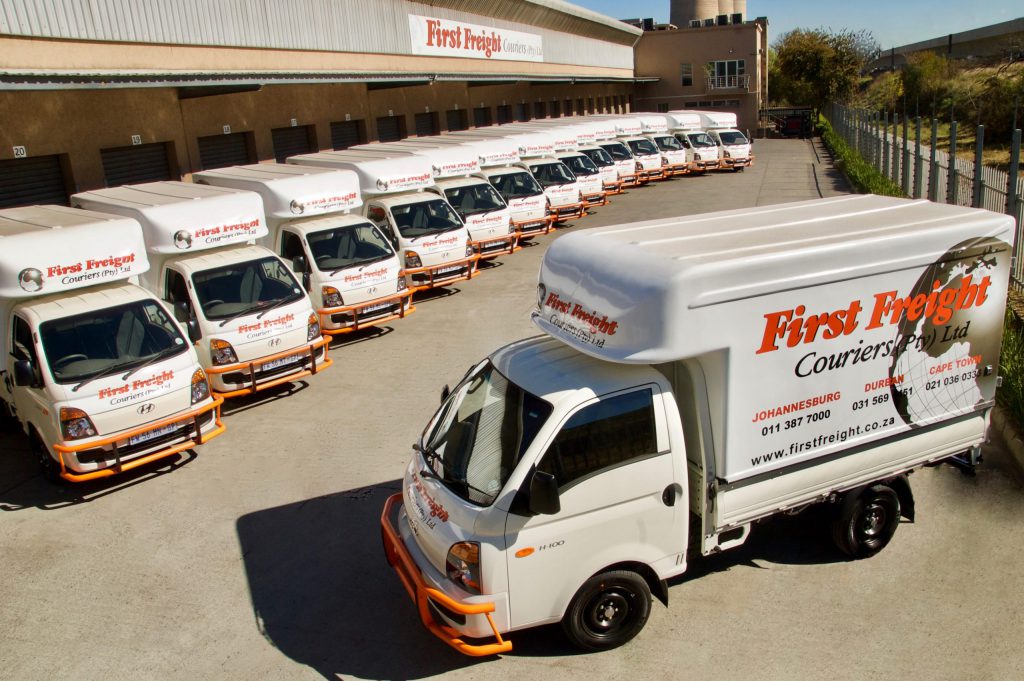 Fleet
The First Freight National Fleet consists of a diversified range of vehicles ranging from 1 to 32 ton loading capacity. Our inventory of vehicles includes open and closed body trucks, tail-lifts, panel vans, bakkies and motorbikes. Our Fleet consists of over 100 vehicles including around 250 drivers and staff members. A mutually beneficial contract has been established with Elite Line Haul which offers First Freight Couriers 15 &; 18m branded superlink truck and trailers which run daily between our depots.

http://elitelinehaul.co.za/
All our vehicles are serviced regularly, clearly branded and equipped with satellite tracking systems so that we know where your goods are at all times. Our drivers are trained in defensive driving techniques and optimal parcel handling procedures. Before setting out from the depot each day, all drivers are issued with cell phones and GPRS hand-held scanning devices to ensure a constant line of communication.
---
B-BEE Certification
Black Economic Empowerment
First Freight Couriers is proud to be the largest privately owned South African courier company to hold a Level 2 Contributor to B-BEE.
---
Future Approach
Offering value added courier solutions involves undisputed service levels, competitive pricing, a vibrant company culture and passion to continuously strive for better more streamlined solutions. At First Freight Couriers we have been able to achieve these business necessities and provide a service of which we are proud of. We are constantly concentrating on developing and implementing systems to suite an ever-changing transport sector and national market, as well as continually offering our customers a flexible, cost effective distribution solution.
First Freight couriers also understands and acknowledges the role to be played in driving corporate social responsibility through Broad Based Black Economic Empowerment and we are committed to actively improving all areas of our business in order to progressively increase our contribution to B-BBEE.
---